Have you heard of NaNoWriMo? It's a fun little way to shorten National Novel Writing Month, an annual event that takes place in November. You can check it out on their website, here. I had heard of NaNoWriMo sometime in college. It was intriguing – the concept is that you attempt to write a novel in one month. I knew people in college who'd tried and either failed or succeeded. Every year it would come around, and I would think, should I? And then I would think not this year, I'm too busy.
So when it came around last year (2013), I realized I wasn't too busy. I remembered about it at the last moment because it was mentioned in the online "Future of Storytelling" course I was taking. So I decided to do it – on October 31st.
Luckily, I already had a concept I knew would do for a short novel. I often have romance-novel-esque dreams, and I've toyed with making them into real romance novels, to the point that some plots I've extended into novel-length concepts. So I just started writing.
To "win" NaNoWriMo, you have to complete 50,000 words during the 30 days of November. Anyone who completes this much is a winner. Now, 50,000 words isn't much of a novel, only about 130 pages in a printed 6″ by 9″ paperback, but that is long enough to be considered a short novel. Many people write more, or don't finish their novel in November but just write a large chunk of it.
Since I was writing a romance novel, it wrapped up rather nicely in about 51,000 words. I actually finished a little early. I was unemployed at the time, and writing was my main focus after applying for at least one job a day.
Fifty thousand words in thirty days works out to be 1,667 words a day. I did not, surprisingly, find this difficult. Five hundred words goes by in a flash and doing that about three times would normally take me about 2 hours, sometimes more, sometimes less. Some days the writing came easily, and other days it was a real challenge.
But overall it was extremely enjoyable, and at the end of the month I was thrilled that I had written my first novel. I've always enjoyed writing – I started in classes as early as first grade. I wrote poetry seriously throughout high school, and started my first blog in tenth grade, when I interned at NASA in the summer. That first blog was just a boring, journal-type one hosted on ModBlog, which no longer exists (searching for that name brings up a body modification blog). I switched over to Xanga and then to Livejournal, followed by Blogger and finally WordPress. I had a blog for my semester in New Zealand, which I suppose was my first travel blog. I did a terrible job updating it.
I had tried short-form fiction in a creative writing class in high school, and occasionally would start up a new story. But this was the first time I really tried writing fiction and I found I loved it.
Since I had pushed through and finished my novel in a month, I figured I could self-publish it in another month. I would not recommend this to anyone. Editing your own work is hard enough not to make yourself do it so soon after you finished it, and over and over in such a short period of time.
Despite nearly driving myself mad, I succeeded and got my book up for sale in paperback at Createspace, and for ebooks at Smashwords. It's now also available on Amazon – Wrestling with Love
 as both a print and Kindle book.
So, here's my novel: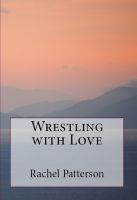 As you can see it's called Wrestling with Love. Here is a synopsis:
Rebecca Allston is 27 and still figuring out her life. She has just gotten a job at the Worldwide Wrestling Corporation as a secretary, which in this job market took nearly a year. Rory Burns is one of the stars of the WWC, a heel with eight years in the company. He is ready to leave his job when he meets Rebecca. The chemistry between them is obvious. But will their budding affection survive the demands of their boss, Damon Lowry, that they stay loyal to him?
If you're interested in reading the book, leave a comment. I'll email the first 10 people to comment  a code to download the ebook for free!
Would you try NaNoWriMo?